About Us!

USAirCombat.com & CombatFrame.com are operated by O'Heffernan Worldwide, LLC, a Florida company owned by David & Martha Heffernan, of Orlando, Florida.
Dave "Heff" Heffernan is a second generation USAF Pilot who's military experience spanned the Cold War years to flying missions during Operation's Just Cause and Desert Shield. Dave's dad, Bob "Heff" Heffernan, a Distinguished Flying Cross recipient was a Vietnam Era Pilot, with over 150 Combat Missions in the F-4 Phantom II. Both Heff's reside in Central Florida. Dave is employed full-time with a local college. Bob is happily retired to enjoy golf and grandkids! Each frame made at USAirCombat.com is carefully handcrafted by either Dave or his dad Bob!
When USAirCombat.com started in April of 2002, we had one frame... the Veteran Combat Pilot License Frame. This frame was inspired by the greatest fighter pilot that I know... my dad! The frames were an instant hit! It wasn't long before I got emails from navigators saying, "Hey, what about us?" Then the Army helo guys wanted their frames... word got to the grunts, who passed it to the Marines, who of course mentioned it to their Navy buddies! Our respect runs deep for all the services and everyone gets first class service. We just wouldn't have it any other way for our fellow veterans!

Lt. Col. Bob Heffernan on right, pinning USAF Wings on his son Dave Heffernan, following Pilot Training Graduation. Sadly, Lt. Green Williams seen in the background of the photo was killed in a four-ship mid-air the next day, March 21, 1984.
Dave & Bob's Air Force Flying Info & Pictures (Click Here)
Martha's dad, Neil Prince, a Civil Engineer, served in the United States Air Force for over 30 years. Martha's brother is a retired Navy veteran who spent his career in the submarine service. We also have a brother-in-law who is a retired USAF pilot and another who is a veteran Army artilleryman.
As you can see, we are proud of our military heritage. We are also proud of our fellow veterans and their families. That's what USAirCombat.com is all about... Pride. Our license frames let folks know that there are veterans in the community that have served our great nation proudly. "These frames are for those who have served... those who know the price of freedom!"
---
TWO SUCCESS STORIES
Pete Slosberg is the founder of Pete's Wicked Ales. On page 222 of Pete Slosberg's book, Beer for Pete's Sake, Pete describes when he really knew his business was going to 'make it'. Pete's 'aha' moment was when his son found a Pete's Wicked Ale bottle top laying in a dirt parking lot.
My 'aha' moment was when my dad and I were driving up to my Aunt Lois' funeral several years after we started the business. We ended up on different flights to Washington, DC. My folks went into Reagan National and I ended up landing in Dulles about an hour later. My dad rented a car at National and picked me up at Dulles and we headed toward Waynesboro, PA. It was a dark evening at about 9:30 pm when my dad passed a small white car. Sitting in the passenger seat, something caught my attention as we closed on the vehicle. It was unmistakably one of our custom frames. There it was... a custom Combat Door Gunner frame traveling down an unlit two lane road in rural Pennsylvania.
I knew we had frames in all 50 states... I knew we were sticking thousands of frames in the mail, but it was actually seeing one of our frames so far away from home that really made me understand our success.
Just like Pete said in his book, "That was it. He had found the first sign of our company's success, at least in my terms."
---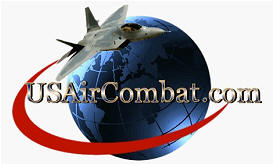 Our Creed: America's Veteran's, America's Hero's!
Our Icons: When you receive your package, you will notice that it is Red, White & Blue! That is us... Red, White and Blue to the core!
<![if !vml]>

<![endif]>

Our Pagans: Anti-military, pacifists, cowards and people who don't appreciate their freedom enough to thank a Veteran!
Our Sacred Words: Trust, Honesty, Thank YOU & Welcome Home!
Our business philosophy is simple, "Take care of our customers... and the business will take care of itself!" As our customer, you will find that we do business unlike anyone else today. We still do business on a hand shake... though, these days, it may just be our computer shaking hands with your computer! Look at our payment policy below... and you will begin to understand us!
---
Payment Protocol
Here's the Rules of Engagement (ROE): You order your frames first, then pay later via one of the payment methods described below.
No Faith: Wait until you have the frames on the car and you hear your first, "Hey man, great license plate frame!" then mail your payment in.
Ye of Little Faith: Wait until you open your package and you think, "These look Outstanding!" then mail your payment in.
Ye of Great Faith: Mail your check now, cause you believe that honesty is still alive in America!
Thank you for taking time to visit our website. Even if you decide not to order a frame, please feel free to email us and say "Hello"! We always love to hear from other veterans! Thank you for your service to our great country and welcome home!
Best wishes,
Dave & Martha
---
This is the cover of Dave's 1994 Book on Fly-in Restaurants and Golf Courses in Oklahoma.
This book was the basis of the CBS: Sunday Morning feature titled, "Out of the Blue". If you love flying or eating, this is a great video. It's only 7 minutes long, but it is a journey that you'll think about for a long time. CBS Correspondent Bill Geist who you will see in this video, tells the story of this journey in his recently published book: "Way Off the Road: Discovering the Peculiar Charms of Small Town America (2007)"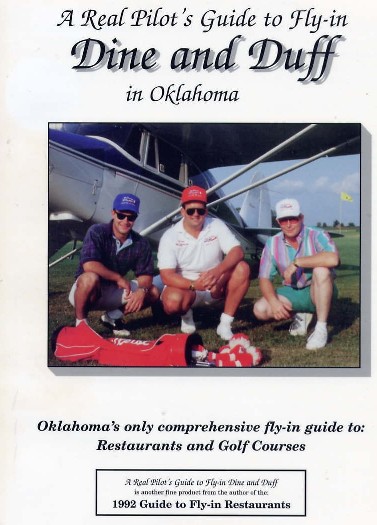 ---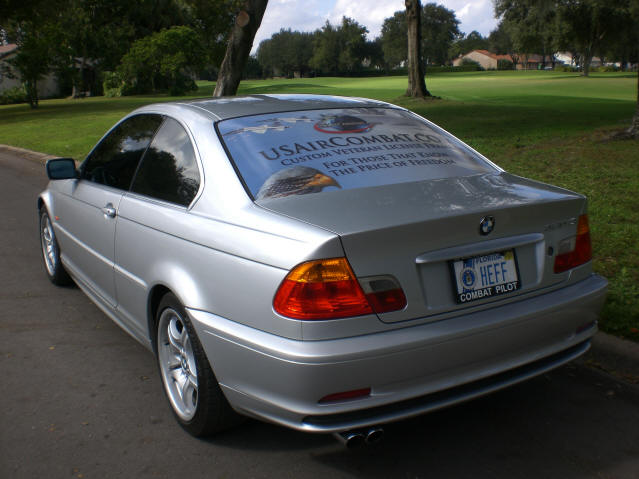 The Company Billboard! For BMW Fans... it's a '01 330Ci.
---
---